Joints form the connections between bones. Damage to the joints caused by disease or injury can cause a lot of pain.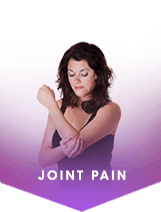 SYMPTOMS
Symptoms can vary depending on the cause of joint pain, however many people will experience:
Stiffness
Soreness
Swelling of the joint
Loss of joint function
CAUSES
Joint Pain can result from a variety of relatively common health conditions. The most common causes are:
Overuse of the joint
Injury
Tendonitis
Sprains and strains
Osteoarthritis
RELIEF
Massaging with eucalyptus oil may possibly help to reduce inflammation.
Exercise gently.
Try Anadin Joint Pain, tailored to relieve joint pain for up to 8 hours*.
*Based on a 400mg dose.