Colds and flu can share similar symptoms although different viruses cause them. In general, flu symptoms are worse.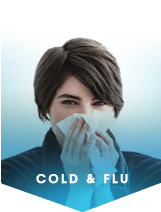 SYMPTOMS
Sneezing
Sore throat
Headaches
Fever
Loss of appetite
CAUSES
Colds and flu are caused by a virus that's spread. This can happen either when an infected person coughs or sneezes and spreads virus particles into the air that you inhale or if you touch a contaminated object and then touch your mouth or nose.
RELIEF
Drink lots of water.
Get plenty of rest.
For relieving fever, sore throat and other aches and pains, take Anadin Paracetamol.