ANADIN JOINT PAIN 200MG TABLETS
When you need effective relief from aches and inflammation in your joints, there is Anadin Joint Pain.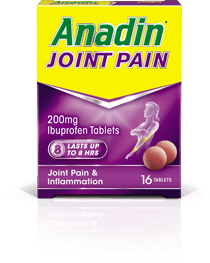 Providing up to 8 hours of pain relief* Anadin Joint Pain works effectively to reduce inflammation and fight pain.
*based on a 400mg dose.

Anadin Joint Pain contains ibuprofen, which targets the source of pain by blocking pain-causing chemicals where inflammation is present.
Adults, the elderly, and children and adolescents over 12 years of age:
Take 1 or 2 tablets up to 3 times a day, as required.
The tablets should be taken with water.
Take only as much as you need and leave at least 4 hours between each dose.
Do not take more than 6 tablets in any 24 hour period.
For children and adolescents, between the age of 12 and 18 years, if symptoms persist for more than 3 days consult your doctor.
For adults aged 18 years or older, if symptoms persist for more than 10 days consult your doctor.
Refrain from taking Anadin Joint Pain if you have stomach ulcers, perforation or bleeding. Following medical advice, we recommend Anadin Paracetamol may be more suitable instead which is gentle on the stomach.