ANADIN IBUPROFEN 200MG TABLETS
Don't let pain disrupt your life. Anadin Ibuprofen can help you to fight pain and reduce inflammation.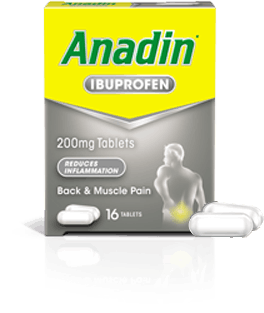 Anadin Ibuprofen not only relieves pain, but also reduces inflammation by blocking the pain-causing chemicals in the tissues of the body.

Anadin Ibuprofen is a smooth texture tablet with a polished surface which targets the source of pain and is easy to swallow.
Adults, the elderly, and children and adolescents over 12 years of age:
Take 1 to 2 tablets with a drink of water up to three times a day as required.
The dose should not be repeated more frequently than every 4 hours.
Do not take more than 6 tablets in 24 hours.
Do not exceed the stated dose.
For children and adolescents, between the age of 12 and 18 years, if symptoms persist for more than 3 days consult your doctor.
For adults aged 18 years or older, if symptoms persist for more than 10 days consult your doctor.
Refrain from taking Anadin Ibuprofen if you have stomach ulcers, perforation or bleeding. Following medical advice, we recommend Anadin Paracetamol may be more suitable instead which is gentle on the stomach.